3D ENVIRONMENTS
Welcome to the Star Game Studios Shop! Dive into our extensive collection of stunning 3D Environments designed to elevate your gaming worlds. Whether you're creating realistic landscapes, captivating cities, or fantastical realms, our meticulously crafted assets are here to bring your vision to life. Explore a diverse range of environments, including forests, mountains, futuristic cityscapes, and more. Each asset is optimized for seamless integration into popular game engines, ensuring a smooth development process. Immerse your players in breathtaking virtual worlds with 3D Environments from Star Game Studios.
Stylized Beach Environment Pack
3D Environment
Build your vibrant tropical island paradise with this complete cartoon beach asset pack. Includes low-poly palm trees, beach chairs, stylized ocean, lighthouse, beach house models, and more. Customizable assets allow you to create a relaxing, lighthearted beach environment. Procedural generation tools help build unique tropical getaways. Populated with playful seashells and colorful seastars. The rounded, gradients, and soft shadows give a bright, sunny aesthetic. Perfect for peaceful simulation and adventure games alike. This all-in-one Stylized Beach Environment Pack has everything you need to bring your island dreams to life.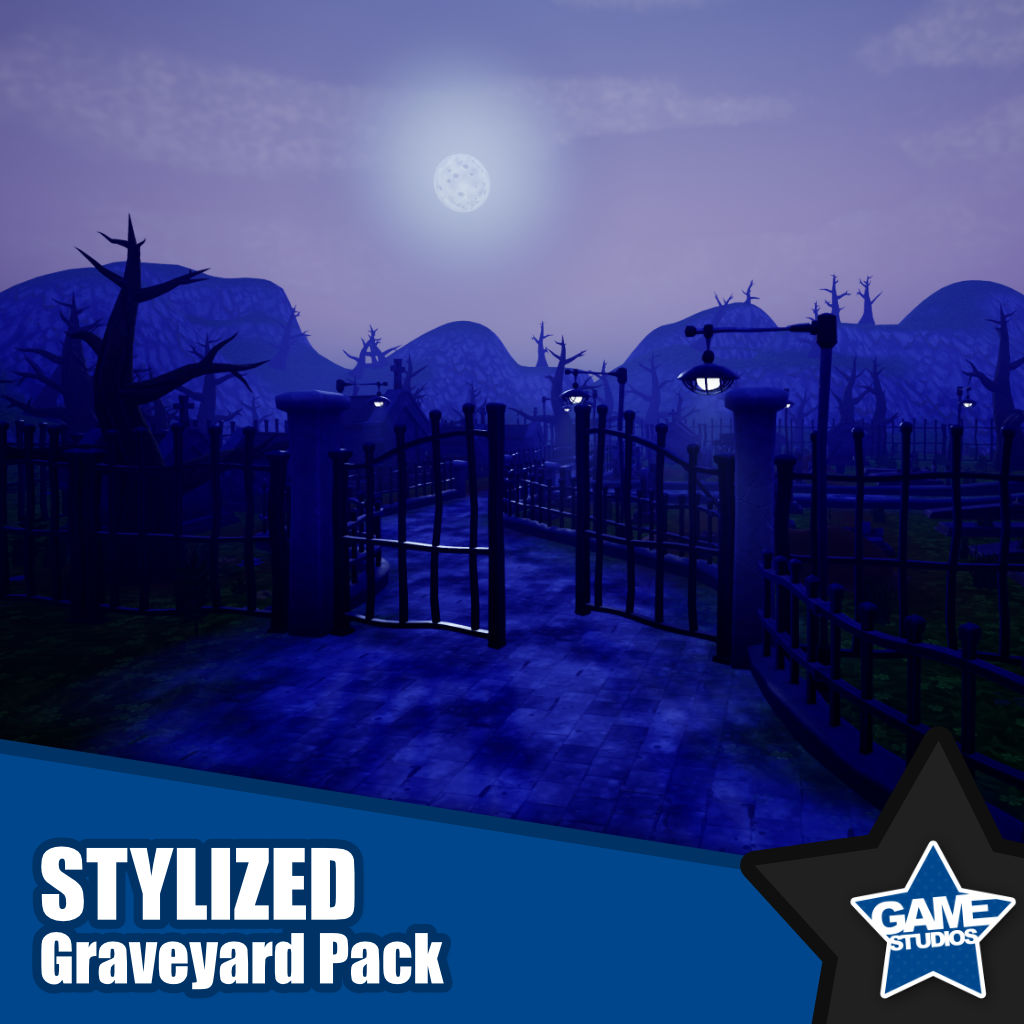 3D Environment
Bring an eerie atmosphere to your next Unreal Engine project with the Stylized Graveyard Pack. This spooky 3D environment pack includes everything you need to create a haunted graveyard scene.
The pack contains 19 modular mansion house pieces that can be arranged to form a creepy haunted house with tattered walls and boarded up windows. Surround the house with 22 modular fence pieces to create an ominous graveyard boundary.
Populate the graveyard with 33 unique gravestone models along with candles, coffins, a coffin cart, buckets, shovels, and other graveyard accessories. 13 plants and trees like gnarled oaks and weeping willows complete the haunted graveyard look.
With 41 materials and 174 high-quality textures, you can achieve an eye-catching stylized aesthetic. Use the included blueprints for the coffin, coffin cart, fences, gravestone randomizer, sky/moon, and lights to quickly add interactive elements.
Whether you're creating a spooky Halloween scene or a gothic horror game, the Stylized Graveyard Pack provides all the pieces you need to construct a chilling graveyard environment. Bring your darkest imaginings to life in Unreal Engine with this complete modular set.
Stylized Modular Medieval Village Pack
3D Environment
Transport yourself to a magical medieval world with this beautifully stylized modular village pack for Unreal Engine. The pack includes 30 detailed modular house meshes with authentic medieval architecture to build your dream village. Surround the houses with 13 stylized trees and plants, as well as 10 textured rock assets to bring your environment to life.
Customize your village with 51 materials, 162 high-quality textures, and special effects like stylized water, waterfalls, and animated skies. Build upon the included blueprints for modular houses, water, and skies or create your own medieval realm from scratch.
Whether you're making an RPG, adventure game, or medieval world, this pack has everything you need. The assets are optimized for beautiful visuals and performance. Simply drag and drop the modular pieces together to create an enchanting medieval village filled with old-world charm. Bring your game vision into a rich, stylized world with this versatile village pack.
Stylized UK Modular House and Road
3D Environment
Bring a touch of classic English charm to your next Unreal Engine project with this stylized UK modular house and road set. This expansive pack includes 65 highly detailed modular house pieces that you can easily snap together to create quaint cottages, townhouses, and more. Surround your creations with 13 different trees and plants, 29 road and sidewalk assets, and 15 rocks to complete the cozy English countryside look.
With nearly 100 high-quality materials, over 250 textures, and handy blueprints, this set makes it easy to build and customize your own idyllic village scene. Whether you're creating an open-world RPG, designing unique levels, or want to add some urban flair to your projects, this modular set provides the flexibility and components you need. The clean, optimized stylized art style fits well in a variety of games while helping enhance performance.